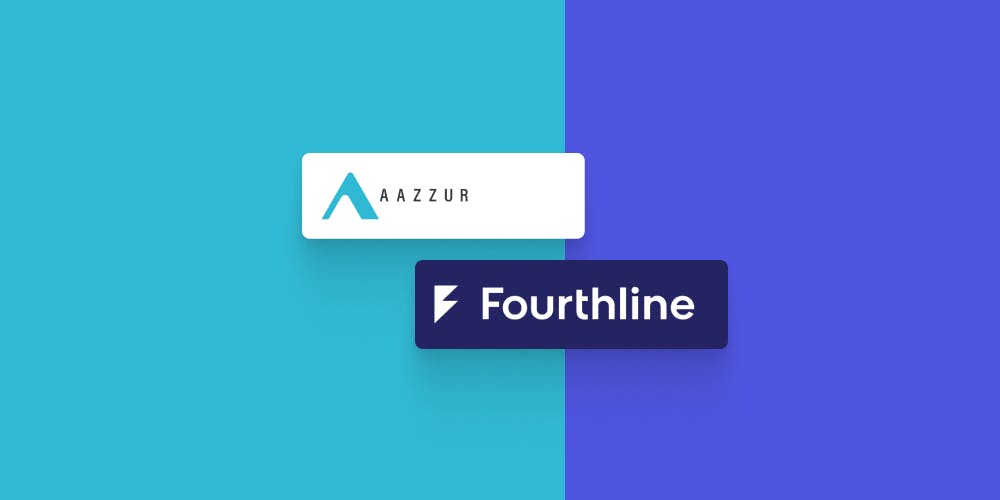 BERLIN/AMSTERDAM, May 4, 2023 - Innovative embedded finance integrator AAZZUR has partnered with Fourthline, one of the fastest growing providers of digital identity technology and KYC solutions, to improve its open banking offers and accelerate speed to market for its clients.
The partnership will see Fourthline's bank-grade end-to-end KYC and AML compliance solutions integrated into AAZZUR's vast embedded finance ecosystem. This integration will enable AAZZUR
to broaden its open banking offerings even further while providing its clients with expert fraud prevention at industry-leading accuracy, conversion, and compliance levels.
As a leading authentication platform provider, Fourthline offers AAZZUR a unique opportunity to accelerate the onboarding of key capabilities for its clients, enabling AAZZUR to deliver even broader and more flexible solutions faster than ever before. This will allow AAZZUR's clients to benefit from Fourthline's superior AI driven platform, assuring compliance with regulatory requirements and security standards while providing a fully digital customer experience and a fast, intuitive process.
Philipp Buschmann, CEO of AAZZUR, commented: "We're thrilled to partner with Fourthline and bring their superior identity verification and compliance process into our smart finance ecosystem. This partnership will enable us to provide our clients with more comprehensive and continuous KYC fraud prevention and empower them with better onboarding flow and risk management capabilities."
Krik Gunning, CEO of Fourthline, added: "We are excited to start a partnership with AAZZUR and integrate our solutions into their embedded finance ecosystem. This collaboration will allow
AAZZUR to deliver even broader and more flexible solutions to their clients, while ensuring bankgrade levels of fraud prevention and compliance. We look forward to helping AAZZUR accelerate their growth and provide a fully digital and intuitive customer experience."
The partnership with Fourthline is one of many recent partnerships sealed by AAZZUR, including Sikoia, Solaris, additiv, and Channel Capital.
About AAZZUR
AAZZUR provides embedded finance orchestration of smart tech, banking, lending, wealth, ecommerce and more. For enterprises, financial-services companies and startup-ventures that want to launch or digitize embedded financial services, AAZZUR's API platform and smart front-end solutions get the job done.
AAZZUR provides a Fintech Platform-as-a-Service that accelerates time to market and revenue and minimizes investment in technology. With AAZZUR clients can be "all connected" to the world of fintech with one integration!
AAZZUR is the fastest and most reliable and cost-effective way to embed financial services; 10x cheaper and 4x faster than "doing-it-yourself". And with partner, in-house and AAZZUR's plug and play deployment models, there is a solution for every type of business.
AAZZUR is a European company with a presence in London and Berlin. To accelerate your embedded finance journey today, work with AAZZUR.
About Fourthline
Fourthline is one of the fastest-growing fintechs in Europe. It helps European banks and regulated financial institutions fight financial crime by performing digital identity checks with innovative end-to-end Know Your Customer solutions and the best compliance experts.
Fourthline verifies millions of new customers annually, performing around 200 checks that automatically examine ID documents, biometric data, current residence, and worldwide sanction lists, among others. With these checks, Fourthline discovers 60% more fraud and achieves an accuracy rate of 99.98%.
With offices in Amsterdam and Barcelona, Fourthline works for clients such as Vivid Money, flatexDEGIRO, N26 and Solaris.