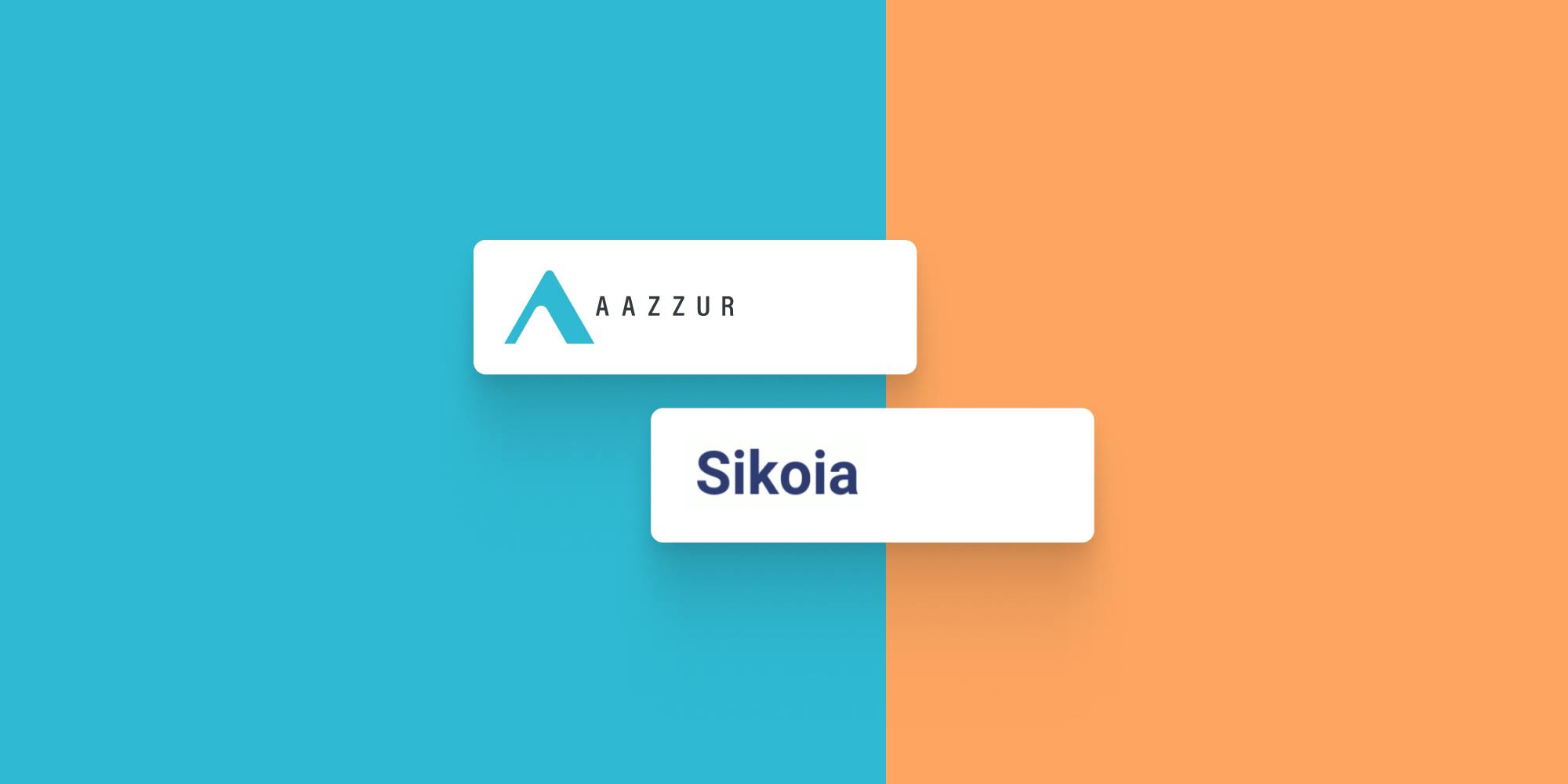 BERLIN, March 21, 2020 - Innovative embedded finance integrator AAZZUR has partnered with Unified Data Platform and aggregator Sikoia to broaden its portfolio and accelerate speed to market for its clients.
The exciting partnership will see Sikoia's customer onboarding and risk assessment capabilities integrated into AAZZUR's embedded finance ecosystem. Among many other things, Sikoia's state-of-the-art data and decisioning solutions will broaden AAZZUR's credit and lending offerings even further, while its impressive data insights will expand the ability for AAZZUR clients to better understand, manage and mitigate their risk. As an aggregator of financial services providers into a coherent data platform, Sikoia offers AAZZUR a unique opportunity to accelerate the onboarding of key capabilities for its clients, enabling AAZZUR to deliver even broader and more flexible solutions faster than ever before.
Philipp Buschmann, CEO, AAZZUR, commented: "Ever since Sikoia first appeared on my radar, it was clear to me we shared a similar vision about the future of financial services. As such, I'm thrilled we're able to combine our ecosystems and that AAZZUR's clients will soon be able to benefit from the instant customer insights gifted to them by Sikoia's enrichment and verification solutions."
Alexis Rog, CEO, Sikoia commented: "We're delighted to join forces with AAZZUR and combine our very complementary offerings. This partnership will enable us to offer end-toend solutions to our customers, combining AAZZUR's best-in-class UX and frontend capabilities together with our decisioning and orchestration layer that streamlines customer onboarding and risk assessment."
Berlin-based AAZZUR enables companies to create an entirely new mobile banking app from scratch or enhance their existing offering within just weeks thanks to its modular smart banking platform. Its embeddable Smart Finance Blocks means clients can make their customers' financial lives better via embedded wealth management services, budgeting tools, insurance, carbon offset programmes and more.
The announcement is one of a raft of recent partnerships sealed by AAZZUR, with other new partners including Solaris Bank, additiv and Channel Capital.
About AAZZUR
Fintech levelled the playing field for finance. Now AAZZUR is levelling the playing field for corporates and startups that want to launch or embed fintech into their digital propositions. We're an embedded finance integrator on a mission to radically reduce the cost of entry and accelerate route to revenue for non-fintechs. We've brought world-leading fintechs such as Wise, railsr and treezor onto our platform, meaning non-fintechs can access our compliance-ready, complete techstack with just one integration. AAZZUR enables any business to embed banking, wealth management, lending and more, so they can offer their customers world-class contextualised financial services, at the precise point where they need them. AAZZUR launched in 2017, with offices in Berlin, and headquartered in the UK. For more information, visit https://www.aazzur.com
Contact Philipp Buschmann / pb@aazzur.com
About Sikoia
Sikoia is a category-defining Unified Data Platform (UDP) and orchestration layer that enriches and aggregates customer data from disparate sources and systems to automate compliance and risk processes, such as customer onboarding and verification, or portfolio monitoring. Client engagement and risk operations teams use the Sikoia Portal to access a fully-enriched, 360° view of the customer, and power operational efficiencies, delivering faster decisioning and powering best-in-class customer experiences.
For more information, visit https://www.sikoia.com/
Contact Andrea Rönnberg / andrea@sikoia.com